We will be receiving our copies of THE DEAD VALLEY AND OTHERS: H. P. Lovecraft's Favorite Horror Stories Volume 2 edited by S. T. Joshi (Signed Limited Hardcover)  on Monday and will begin packing and numbering them as soon as they arrive.
Limited to only 150 signed and numbered hardcover copies.  Each story is hand picked by Lovecraftian scholar S. T. Joshi, with introduction.
H. P. Lovecraft was a voracious reader of supernatural and fantastic fiction, and he was continually on the hunt for powerful and stimulating works in these genres. Many of the stories he read directly influenced his own writings
Here is the second volume in the very popular Lovecraft's Favorite series.
Contents
Introduction by S. T. Joshi
The Diamond Lens by Fitz-James O'Brien
The Horla by Guy de Maupassant
The Moon Pool by A. Merritt
Count Magnus by M. R. James
The Damned Thing by Ambrose Bierce
The Dead Valley by Ralph Adams Cram
The Bad Lands by John Metcalfe
Ooze by Anthony M. Rud
Fishhead by Irvin S. Cobb
The Harbor-Master by Robert W. Chambers
Ancient Sorceries by Algernon Blackwood
Cassius by Henry S. Whitehead
The Spider by Hanns Heinz Ewers
Blind Man's Buff by H. Russell Wakefield
NIGHT AND THE CITY by Gerald Kersh (Limited Edition Hardcover)
Night and the City: One of the greatest noir novels ever published, Gerald Kersh's stark and unrelenting Night and the City is as bleak an experience as you will ever encounter. The protagonist of the novel is the morally empty Harry Fabian, who is determined to become the top wrestling promoter in London. During the course of the novel Fabian is embroiled in various unscrupulous money-making ventures. All those around him are treated as a means to an end without exception. However, while his acts of pimping, blackmail and deception are successful, the proceeds of crime soon slip from his hands. The novel has a printed cloth front board with a design by Frank Chigas, an interior photograph by Jeff Hersch, and a lengthy biographical introduction by renowned editor Paul Duncan.
Limited to 200 copies.
Introduction by Paul Duncan.
Old hardcover editions and movie posters of Night and the City reprinted in color.
Ribbon marker, head and tail bands and printed cloth panel.
THE FANTASTIC ART OF FRANK FRAZETTA by Frank Frazetta (Oversized Art Book)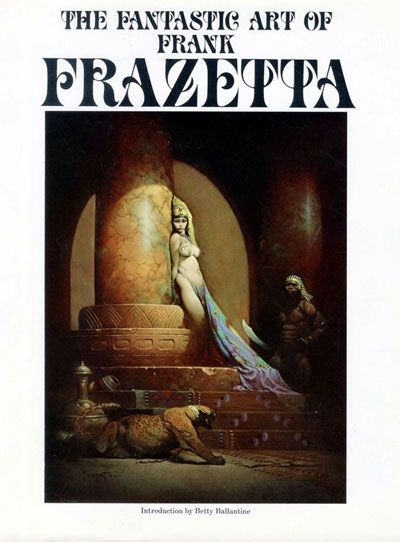 1st printing. Introduction by Betty Ballantine. Featuring images and scenes from the mind of the master of sci/fi, horror, and fantasy illustration – Frank Frazetta. Includes Conan, Death Dealer, Dracula, and more. Hardcover, 9 1/2-in. x 10 1/2-in., 96 pages
Book is in near fine condition with a tiny bump to the back top corner else fine. The Dust Jacket is in near fine condition with some light rubbing else fine.
THE NECROMANTIC GRIMOIRE OF AUGUSTUS RUPP (Hardcover Limited Edition)
THE NECROMANTIC GRIMOIRE OF AUGUSTUS RUPP is the complete text of the transliteration and translation by Carter Stockdale. This edition also has prefatory notes by Anthony Raven and published by Bob Lyn.
This is a limited edition of 500 copies this being 110. This edition has the original owner who purchased directly from the publisher's name written on the signature page which was done with all copies shipped directly from the publisher.
Book is in near fine condition with no noticeable defect other than some slight toning due to age.
INTRUSIONS by Robert Aickman with Introduction by Reggie Oliver (Limited Edition Hardcover) Import
In his Introduction to this new edition of Intrusions, Reggie Oliver writes that Robert Aickman (1914-1981) 'was one of the most original and interesting short story writers of the late twentieth century . . . I wonder if the adjective "inconclusive", so often applied to Aickman, is quite the mot juste. His stories all have a beginning, a middle and an end. They conclude, but the conclusion is not absolute: puzzles remain. How like life! Aickman is both a realist and a surrealist: or, to put it another way, his surrealism is real.'
Intrusions is the last collection of Aickman's tales to be published in his lifetime. It includes: 'Hand in Glove', 'No Time Is Passing', 'The Fetch', 'The Breakthrough', 'The Next Glade', 'Letters to the Postman'.
Intrusions is a sewn hardback of 278+ xi pages, printed lithographically, with silk ribbon marker, head and tailbands, and d/w.
Limited to 350 copies.
THE 2012 LIMITED EDITION CTHULHU CHRISTMAS ORNAMENT by Alex McVey (Signed Limited Edition Resin Sculpture)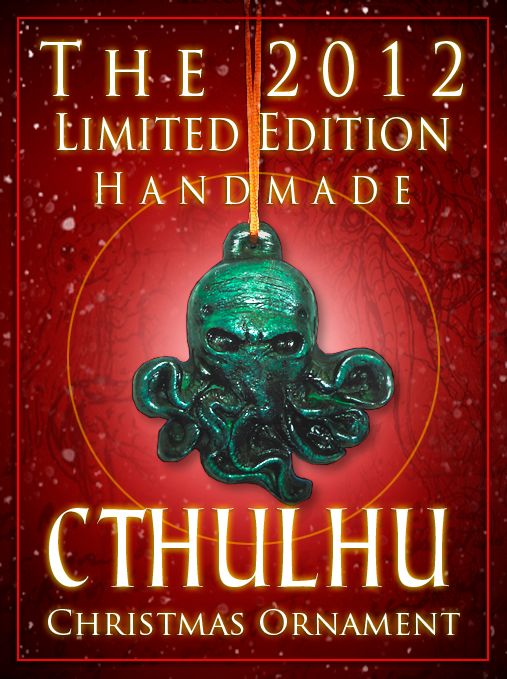 What can no H. P. Lovecraft fan be without during the holiday season?  A 2012 limited edition Cthulhu Christmas Ornament!
Miskatonic Books has commissioned renowned artist Alex McVey to create a unique, signed, limited edition Christmas ornament specially designed for the H. P. Lovecraft enthusiast.
This ornament is limited to only 250 signed and numbered sculptures. Each ornament is hand-cast, hand painted, and hand numbered by the artist. Each year we will be creating a new holiday sculpture and those purchasing this years ornament will have first chance at getting matching numbers on next years Lovecraft Christmas ornament.
Limited edition resin sculpture ornament of only 250
Hand-cast
Hand painted
Signed by the artist
Comes with golden tie string.
Approximately 4 inches tall and nearly an inch thick.
For a more detailed picture click on the "image" tab above.
Please allow 10 to 14 days for delivery as each of these are handmade to order.
THE WEIRD TALES STORY edited by Robert Weinberg (First Edition Hardcover)
Book is in near fine condition with some light shelf wear else fine. Dust Jacket is in near fine condition with some rubbing and some very small light creases to corners and edges else fine.
134 Pages. Blue cloth with silver spine lettering. Endpapeer art by Nino and Jundis. Here for the first time, is a history of the magazine, from its first struggling days; the first Anniversary issue which was almost its last; the glory days of Howard, Smith, and Lovecraft; the last years when competition was finally making its mark. Here are biographies of Edwin Baird, the first editor of weird Tales and Farnsworth Wright, the man who almost single-handedly made the magazine successful. Included is E. Hoffmann Price's famous biographical sketch of wright, a fitting tribute to the greatest all fantasy magazine editors. There is a huge chapter, itself the size of a small book, on the great stories published in Weird Tales, from the first issue on. Included in this section are dozens of biographical sketches of famous Weird Tales authors from the famous to the forgotten. Lovecraft is included, but so are Anthony Rud, Nictzin Dyalhis, and many many others. Also in this giant volume are personal recollections by many of the greats who wrote for Weird Tales, including Frank Belknap Long, Edmond Hamilton, Wallace West, Robert E. Howard, Robert Barbour Johnson, H. Warner Munn, Robert Block and more! Margaret Brundage, whose name stands for Weird Tales cover excellence, is interviewed, for the first time, in depth. Here, as never before, is the complete story of her years with Weird Tales. There is much, much more including nearly 200 reproductions of covers, interior artwork, and photos of contributors. The interior is futher enhanced with the brilliant artwork of fantasy art's star, Alex Nino. This book has been designed for a collector and no effort has been spared to make it one that will be cherished for years to come. Contents in Eleven Chapters: Publishing History, Farnsworth Wright, Why Weird Tales, The Stories, Recollections of Weird Tales, Cover Art, Interior Art, Beginnings and Ends, Out of the Eyrie, Competition, and A Brief Resurrection.