Just in and shipping!
THE RHYME MAIDENS 1-1-11 by Neil Gaiman (signed limited broadside)

The Ryhme Maidens 1-1-11
These hand-printed broadsheets were made in celebration of the wedding of Neil Gaiman and Amanda Palmer. The poem was written by Neil Gaiman about the night before their wedding. Fifty unique folios contain two versions of the same broadsheet.  The typefaces used are Granjon, Dyer, Willow and You Murderer. The embossing was done from polymer plates that were mounted type high and then squeezed through the press by hand. The paper is acid free 250 gm archival Rising Stonehenge. The wood engravings are incised on end grain maple and were made by George A.Walker who also designed and hand-printed the whole project on his Vandercook SP15 proof press in the winter of 2012.
Hand made broadside 12.5″ x 16″
Folio Edition limited to 50 copies.
Bound and slip cased in black fiscagoma, includes two versions of the poem signed by both Neil Gaiman
Blind stamped front and back, heavily embossed.
If you are interested in the signed regular edition of this broadside click the image below.
TALES OF LOVE AND DEATH by Robert Aickman (Limited Edition) Import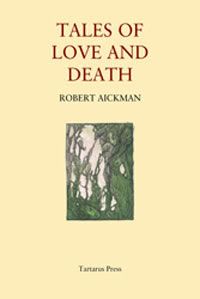 Robert Aickman (1914-1981) is considered by many to be one of the finest exponents of the modern ghost story. Aickman himself referred to his tales as 'strange stories', for they are often open to more complex interpretations. His writing is subtle and poetic, presenting us with psychological and more material terrors.Tales of Love and Death (first published in 1977) is a collection of seven mature tales by this craftsman of the uncanny.
"Along with Walter de la Mare, Elizabeth Bowen and a few others, Robert Aickman belongs to the Chekhov school of the weird tale. Such writers recognise that stories don't require pat endings. They don't need to close with the snap of an O. Henry trapdoor, or the ironic twist of a Maupassant. A short story can actually convey a more haunting depiction of the human predicament by avoiding any kind of artificial conclusiveness. Life is messy, not neat; most problems are never clearly resolved, but only lived with; people act unreasonably for no apparent reason." Michael Dirda, from the Introduction to Tales of Love and Death.
Contents: 'Growing Boys', 'Marriage', 'Le Miroir', 'Compulsory Games', 'Raising the Wind', 'Residents Only' and 'Wood'.
Tales of Love and Death is a sewn hardback of 243+ xiii pages, printed lithographically, with silk ribbon marker, head and tailbands, and d/w.
Publication 28th May 2012
Cover artwork by Stephen J Clark of The Singing Garden.
Limited to 350 copies.
Two rare and hard to find Delirium Books titles both are number "1″ and a lettered edition.
BODY COUNTING by David Whitman (Signed Limited Edition Hardcover) This is number "1″
This is one of only 92 signed and numbered hardcover copies. This being number "1″
Book is in perfect unread condition

David Whitman (co-author of Scary Rednecks And Other Inbred Horrors and author of Deadfellas) offers up his first short story collection.
Featuring a dozen short stories:
1. Out Of The Ashes
2. The Mind Of Hunter Castle
3. Killing Brando
4. Angel Lust
5. What Love Was
6. The Eyes Of God
7. The Death Of The Piano Man
8. Dust In The Wind
9. The Thursday Night Poker Players
10. Broken Souls
11. The Hitman Always Rings Twice
12. Body Counting
BACK FROM THE DEAD by J. F. Gonzalez (Signed Limited Edition Hardcover) This is number "1″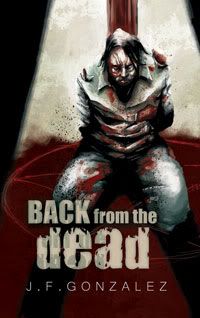 This is a signed limited edition hardcover of only 150 signed and numbered copies. This is number "1″ of 150
Tim Gaines was the town pariah. Mocked and teased continuously since he was in the sixth grade, he approaches his senior year of high school with a sense of cautious trepidation. Years before, when he was in the sixth grade, a group of boys led by Scott Bradfield—a popular, well-liked kid from well-to-do parents—spread a vicious rumor that he was a devil-worshipper. The rumor stuck, and is believed by most of the students and even a few of the teachers and administrators. It's a rumor Tim can't beat, and one he sometimes feels he's brought on to himself due to his love of horror novels and movies.
Now Tim has become friends with a loose-knit group of kids who have also become social outcasts thanks to other rumors spread about them by the student elite. With their mutual support, Tim has begun to come out of his shell. He's going out with them, being invited to parties, and even begins to have a romantic interest in a girl, something he never thought would happen to him in high school.
But all that will change when Scott Bradfield and his friends set their sights on Tim again. Only this time, they need his help. Like most of the student body of Spring Valley High School, they sincerely believe Tim Gaines is a devil-worshipper. And they believe he has a dark power. Now they want to use him and that power for their own sinister plight…
…To bring back the dead homeless man they'd kidnapped and brutally beaten to a pulp in the guesthouse that resides on the Bradfield residence.
They want him brought back not because they're scared of getting caught for his murder, but so they can savagely beat and murder him again…
…and again…
CLICKERS II by Brian Keene and J. F. Gonzalez (Signed Leather Bound Edition)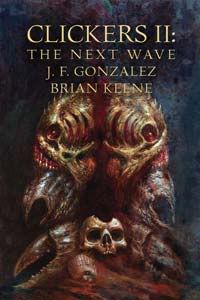 This is a signed leather bound edition in a custom slipcase. This is letter RR of 52 copies published.
The first wave was only the beginning.
Since it's publication in 1999, Clickers by J.F. Gonzalez and Mark Williams has become a geunine cult-classic, garnering a legion of fans and single-handedly revitalizing the "munch-out" sub-genre. Like Jaws did a decade before, Clickers gave readers another reason not to go in the water.
But now, it's not even safe on land.
Delirium Books is proud to present Clickers II: The Next Wave. J.F. Gonzalez has teamed with best-selling novelist Brian Keene for a second assault — this time on a national scale.
The Clickers are back, wreaking havoc on a United States already demoralized and defenseless thanks to a category five hurricane and a president who rules through religious zealotry.
Now, as the death toll climbs into the thousands, two survivors from the original invasion find themselves teamed up with a marine biologist and a mob hitman, and on the run from the Clickers, the Dark Ones, and their own government. And as their enemies close in on all sides, only one thing is certain — if they fail, humanity loses.
Clickers II: The Next Wave. This time, the crabs eat you . . .