Here are a few titles that just arrived, back in stock or in short supply
PILGRIMAGE TO AZATHOTH by H. P. Lovecraft (Signed Limited Edition Hardcover bound in goat skin)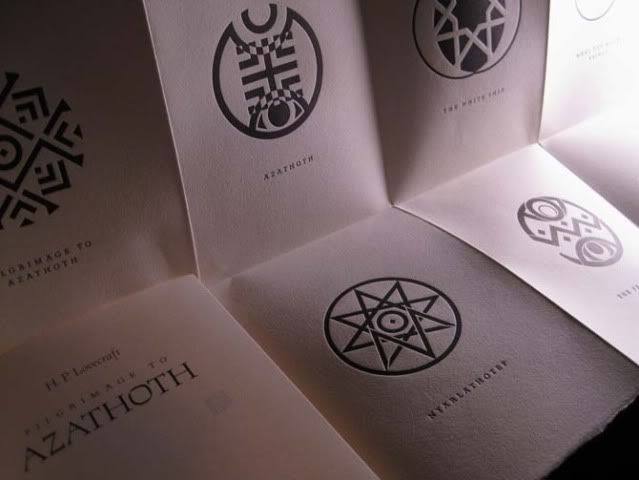 Bound in Black Goat Skin Viatorium Press announces a unique new edition of the prose poems of H. P. Lovecraft. Limited to 46 copies. Letterpress + laser printing. Folding plate. Bound in black goat. Pilgrimage to Azathoth has taken first prize in the 2011 Bookbuilder's West design competition. Trim size is 5.5 x 7
The prose poems of H. P. Lovecraft, disguised within what appears to be a sinister occult tome; this design is a play on Lovecraft's own imaginal grimoire, the Necronomicon. Arabic and English are poised side by side, expressing the themes and characters of the interwoven tales. The reader feels he/she is immersed in mystery, due to the bizarre symbols influenced by multiple ancient cultures. The occasionally unorthodox structure, and deliberate obfuscation, challenge the reader to explore the book as an aesthetic object, a machine of arcane sensation. The book is bound in black goat, and contains a large letterpressed folding plate.
The book is nothing short of amazing and is a must have for any serious Lovecraftian library.
These are in stock and in very short supply
MEDUSA'S COIL AND OTHERS Volume II by H. P. Lovecraft edited by S. T. Joshi (Signed Limited Edition Hardcover)
We are down to just a few copies of this title left!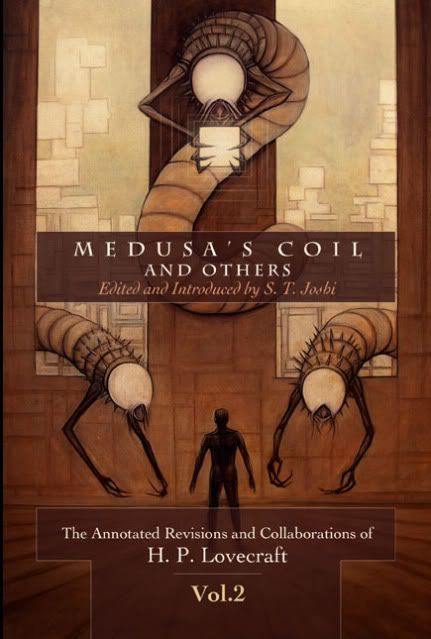 Some of H. P. Lovecraft's most fascinating work came from a time in his life that he was forced, by economic survival, to ghostwrite, collaborate and revise the work of others in the field. Here Lovecraft Scholar S. T. Joshi collects the best of these revisions and collaborations in a two volume set to be published this year from Arcane Wisdom Press. Medusa's Coil and Others is the second of these two volumes. This edition is painstakingly annotated, and includes an introduction and bibliography by S. T. Joshi. The book is a must for the Lovecraft enthusiast and scholar alike. This limited edition hardcover will be strictly limited to only 150 hardcover copies. They will be signed by Lovecraftian scholar S. T. Joshi and will be hand numbered on a custom signature sheet, featuring artwork by Zach McCain. We expect to be shipping these in late January reserve your copy now of this unique collection.
HE GHOST OF FEAR AND OTHERS: H. P. Lovecraft's Favorite Horror Stories edited by S. T. Joshi (Signed Limited Hardcover)
We are expecting to have several more of these in stock from the printers the first week of May. These have been going very quickly so reserve your copy soon before these are all gone.
THE GHOST OF FEAR AND OTHERS: H. P. Lovecraft's Favorite Horror Stories edited by S. T. Joshi (Signed Limited Hardcover)
H. P. Lovecraft was a voracious reader of supernatural and fantastic fiction, and he was continually on the hunt for powerful and stimulating works in these genres. Many of the stories he read directly influenced his own writings. This first volume of H. P. Lovecraft's Favorite Horror Stories presents 16 stories that Lovecraft found to be of particular merit. Among them are the beautiful poetic fantasy "Idle Days on the Yann" by Lord Dunsany; Fiona Macleod's grimly evocative "The Sin-Eater," which influenced "The Rats in the Walls"; Arthur Machen's grisly novelette "Novel of the White Powder," which Lovecraft adapted for "Cool Air"; and M. P. Shiel's "The House of Sounds," which Lovecraft ranked among the greatest weird tales ever written. Also included are hard-to-find stories by Nathaniel Hawthorne, E. F. Benson, Théophile Gautier, John Buchan, and others, as well as two stories from the legendary pulp magazine Weird Tales (Seabury Quinn's "The Phantom Farmhouse" and Arthur J. Burks's "Bells of Oceana"). The volume contains an introduction by S. T. Joshi as well as notes on the individual stories, giving background on the authors as well as on Lovecraft's appreciation of the tales and their possible influence on his work.
Contents:
Introduction by S. T. Joshi
Idle Days on the Yann by Lord Dunsany
Fragments from the Journal of a Solitary Man by Nathaniel Hawthorne
The Man Who Went Too Far by E. F. Benson
The Mark of the Beast by Rudyard Kipling
The Sin-Eater by Fiona Macleod
The House of Sounds by M. P. Shiel
The Phantom Farmhouse by Seabury Quinn
One of Cleopatra's Nights by Théophile Gautier
The Stranger from Kurdistan by E. Hoffmann Price
The Facts in the Case of M. Valdemar by Edgar Allan Poe
Novel of the White Powder by Arthur Machen
The Dead Smile by F. Marion Crawford
The Ghost of Fear by H. G. Wells
Lukundoo by Edward Lucas White
Bells of Oceana by Arthur J. Burks
The Wind in the Portico by John Buchan
This is a signed limited edition hardcover of only 150 signed and numbered copies.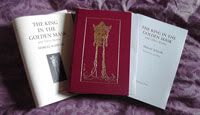 THE KING IN THE GOLDEN MASK and Other Stories by Marcel Schwab (Limited Edition Hardcover) Import from Tartarus Press
'The peculiar genius of Monsieur Schwob lies in a species of tremendously complex simplicity; that is to say that, by the arrangement and the harmony of an infinity of telling and precise details, his stories present the sensation of a unique detail.'
Rémy de Gourmont, Le deuxième Livre des Masques  Revered in the French-speaking world, Marcel Schwob (1867-1905) deserves to be much better known among English-speaking aficionados of Decadent fiction. This new collection of fifty-one stories, including eight newly-translated pieces, aims to address that discrepancy. It brings back into print Iain White's poetic translations of Schwob's better-known tales, such as the title story 'The King in the Golden Mask', and adds newly-translated gems such as the astonishingly beautiful and haunting 'The Wooden Star'.
Schwob was a one-off, but he was greatly influenced by English and American writers. He discovered Edgar Allan Poe whilst still a child, and he translated Robert Louis Stevenson's The Dynamiter into French. He crammed a great variety of literary endeavour into his all-too-short life, and was much admired by contemporaries such as Paul Valéry and Guillaume Apollinaire.
The King in the Golden Mask contains:
Translator's introduction
Acknowledgements
From Cœur double: 'The Strigae', 'The Sabot', 'Train 081′, 'Arachné', 'The Veiled Man', 'Beatrice', 'Lilith', 'A Skeleton', 'The Fat Man', 'The Dom', 'The Amber-trader', 'Mérigot Marchès', 'The "Papier Rouge" ', 'The Firebrands'.
From Le Roi au masque d'or: 'The King in the Golden Mask', 'The Death of Odjigh', 'The Embalming-women', 'The Plague', 'The Milesian Virgins', 'The Sabbat at Mofflaines', 'Blanche the Bloody', 'The Flute', 'The Sleeping City'.
From Vies imaginaires: 'Introduction', 'Empedocles, Reputed God', 'Herostratos, Incendiary', 'Crates, Cynic', 'Septima, Enchantress', 'Lucretius, Poet', 'Clodia, Shameless Matron', 'Petronius, Novelist', 'Sufrah, Geomancer', 'Frate Dolcino, Heretic', 'Cecco Angiolieri, Malevolent Poet', 'Paolo Uccello, Painter', 'Nicholas Oyseleur, Judge', 'Katherine la Dentellière, Whore', 'Alain le Gentil, Soldier', 'Gabriel Spenser, Actor', 'Cyril Tourneur, Tragic Poet', 'Major Stede Bonnet, Pirate by Vagary', 'Burke and Hare, Murderers'.
La croisade des enfants: 'The Goliard's Narrative', 'The Leper's Narrative', 'The Narrative of Pope Innocent III', 'Narrative of Three Little Children', 'Narrative of François Longuejoue, Clerk', 'The Kalandar's Narrative', 'Little Allys' Narrative', 'The Narrative of Pope Gregory IX'.
'The Wooden Star'
Cover illustration by Santiago Caruso