Ever since Lovecraft and his friend began to introduce arcane and mouldering books into their stories, the idea has been a popular prop for horror stories. One of the best modern practitioners of this style of fantasy fiction was the late Karl Edward Wagner (1945-1994). Beginning in the 1960′s, and usually staying in the low end and limited press markets, Wagner attracted a loyal audience and became a noted celebrity among them.
The Fantasy and Science Fiction Magazine debuted (1949) as primarily a reprint pulp magazine, but Anthony Boucher had big plans. He began to create what might be considered a high brow approach to what had been sicentifiction in the 1930′s and was being coined Sci-Fi in the 1950s, and the magazine and the concept were magnificent triumphs ushering in the mature era of "SF".
F&SF was already venerable and venerated by 1973. This blogger, as a teenager, was grabbing copies at the local drug store as often as he could. But, senior year of High School came and then college and eventually this collection of magazines ended up in a box, and then moved from place to place. The numerous copies from the 1970s began to be jostled and one by one given away to friends, or to some charity, or simply disapperead until only one was left, alone, forgotten, and rotting away in the garage. Until last week.
Like a forgotten copy of the Necronomicon or a tattered copy of a play about the King in Yellow, there lay at the bottom of a cardboard box a mildewed copy of the August 1973 F&SF. The pages were yellowed, and covered in fungus. A healthy dose of paper towels and lysol, and much of the microbial detritus was removed, and then a quick flip of the pages in a fresh breeze cleared most of the rest of the dirt stuck on the edges of the pages.
Inside, a treasure trove was re-discovered.
It included the 1973 debut of Karl Edward Wagner's classic In the Pines, a story by a young David J. Skal, and the results of a "Feghoot" contest.
I suddenly realized that this was a 40 year old magazine. But how could that be? It seemed like only yesterday I had bought it and brought it home. But if I were honest, after 40 years the mildewed copy that was once freshly minted had fared only a little better than my 57 year old arthritic body.
In the Pines has been eloquently reviewed by Stefan Dziemianowicz:
… he published the book's lead-off story, "In the Pines", in a 1973 issue of The Magazine of Fantasy and Science Fiction. The tale is a retelling of sorts of Oliver Onions' classic ghost story "The Beckoning Fair One" (which Wagner references in his story) and it shows how well Wagner understood the mechanics of the horror tale. Onions' story tells of an author who rents a house and who crumbles psychologically under the influence of a former female tenant whose ghostly presence has imbued the place. In Wagner's story, a husband who moves temporarily with his wife to a remote cabin in Tennessee to recuperate emotionally following the death of their young child falls under the spell of a ghostly woman who disappeared from the premises half a century before. Atmospheric and laden with portents and foreshadowings, the story builds to a powerful climax in the final paragraphs. It's the first of several of Wagner's tales to feature a femme fatale as an embodiment of supernatural horror.
Skal has become a notable scholar of Dracula movies and a legendary film critic. We lost Wagner at a much too young of an age. And the heady days of scientifiction, Sci-Fi, and SF are now mostly reflected by a television network called SyFy.
And a "feghoot"? Now almost forgotten, the original feghoots were penned by Reginald Bretnor under his pseudonym of Grendel Briarton (an anagram), and collected most notably in Through Time and Space with Ferdinand Feghoot. We would now call these flash fiction, and they almost always contained or ended with a tortured pun of a notable phrase. (A tradition now carried on by Stephen Pastis in his comic strip Pearls Before Swines).
Here is a Pastis "feghoot" from a Sunday strip, 27 Jan 2013:
Below, a selection of the badly damaged pages featuring "In the Pines". They were salvageable enough for scanning. Click any image to expand to full size for closer examination.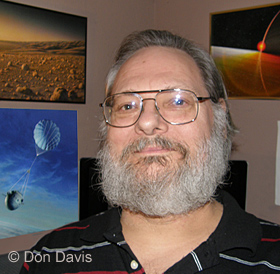 Don Davis. As noted, above, Don Davis paid homage to the 1945 photograph of the Planting of the American flag on Iwo Jima. In the years since, the photograph has become mildly controversial, but at the time – only slightly more than a generation after the end of WWII – it was still considered a powerful patriotic symbol. Then only 21 years old (b. 1952), Davis has had an amazing career in space art.
To see the Karl Edward Wagner titles that we have available just click the Miskatonic Books Banner below