Many of our titles are rare and hard to find. All are sold on a first come first serve basis. If you are interested in getting more information on a title just click on the cover art.
Only $5 shipping on any size order in the US and you get points on each purchase that can be used for future purchases.
We are always looking for books in Occult, Witchcraft, Ceremonial Magic, Rosicrucian, Golden Dawn, Aleister Crowley, Kenneth Grant,  Lovecraftian, Weird Tales, etc. If you have books in these categories that you would like to sell or trade you can reach us at miskatonicbooks@me.com
AMBROSE BIERCE: MASTERS OF THE WEIRD TALES (Signed Limited Edition Hardcover) Preorder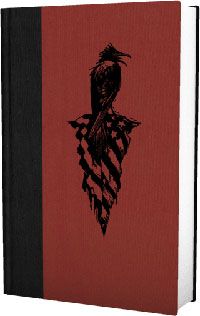 Ambrose Bierce (1842-1913?) was an American editorialist, journalist, short story writer, fabulist, and satirist. He wrote the short story An Occurrence at Owl Creek Bridge and compiled a satirical lexicon, The Devil's Dictionary. His style often embraces an abrupt beginning, dark imagery, vague references to time, limited descriptions, impossible events and the theme of war. In 1913, Bierce traveled to Mexico to gain first-hand experience of the Mexican Revolution. While traveling with rebel troops, he disappeared without a trace.

This 560-page collection includes all of the best horror stories and Civil War stories, plus some other tales and sketches that are only rarely collected in book format. Jason Eckhardt has contributed twenty-four black and white drawings, and a stunning color frontispiece portrait of Bierce. The book also has a woodcut-style illustration of a raven sitting on top of a tattered Union flag stamped into the front cover.

This is all the Bierce you need in one single, easy-to-read, gorgeously typeset volume that fits nicely with the other authors in the Masters of the Weird Tale series.

The edition is limited t0 200 signed and numbered copies, and the book is signed by S.T. Joshi and Jason C. Eckhardt.

Limited to 200 copies, each signed by S.T. Joshi and artist Jason C. Eckhardt.

Introduction by S.T. Joshi.

Bibliography of published stories.

Slipcase, ribbon marker, head and tail bands, three-piece cloth construction.
ARCANUM BESTIARUM by Robert Fitzgerald (Limited Edition Hardcover)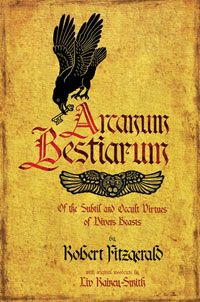 Written in the great tradition of the medieval bestiaries, Robert Fitzgerald's long-awaited new work Arcanum Bestiarum re-imagines the animal menagerie in the context of bestial mystery and atavistic power. Written for the modern magical practitioner and zoophile, the 272-page volume examines the occult virtues and totemic majesties of fifty animals, theriomorphs, and their kindred. Correspondences with deific powers, atavistic wisdom, and mythopoetic emanation are examined, especially in light of the tutelary powers all animals possess.

The Tetramorph – essentially an animalic 'crown of creation' – is here transformed into the far broader and innovative concept of the 'Theriomorph', or, the Zodiak Entire of Creation as an apotheosis of the animal form and zoötype… One of the greatest of virtues possessed by the Human is its bestial heritage, both spiritually and genetically. These attributes are often seen as primitive, chaotic and dangerous to civilized culture by the custodians of moralism and religion today, but the fact remains that it is our animal heritage that makes us what we are, or, more accurately, what we should and can be.

Special attention is given to the zoomorphic aspects of alchemy, which historically used the bestial emblemata as veils of the stages of the Great Work, as well as shamanism and witchcraft, bodies of knowledge particularly rich in the lore of animals as spirit-helpers. The work is an emergent strand of magical investigation long part of the author's private life, where he has worked in the ecological field of wildlife rehabilitation, especially raptors.

The text is graced with fifty-five original woodcut illustrations by artist Liv Rainey-Smith, prepared especially for this title in close collaboration with the author. Amongst the more ambitious renderings in the work are the occult cryptofauna Homunculus, Manticore, Ouroboros, and Basilisk, as well as animals prominent in the ancient dawn of magick: the Bear, Goat, Viper, Peacock, and more. Completing the design elements is an original typeface designed for the work by calligrapher Gail Coppock, serving to illuminate this grimoire of the Magician's Primal Eden.

The book is 248 pages, printed in two colour ink on heavy stock, and illustrated throughout. The book is available in two editions, limit one pre-order copy of each edition per customer. Limited to 1400 copies.
THE COMMENTARIES OF AL: The Equinox Vol. V, No. 1 by Aleister Crowley (First UK Edition Hardcover)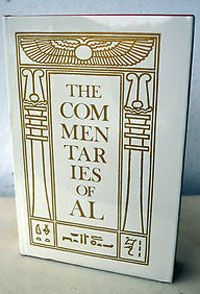 The Commentaries Of AL – Equinox Vol. V, No. 1. First UK Edition. This copy is in near mint condition, and comes with its original dust jacket. The dust jacket is intact, but has some very minor shelf wear else fine. This is a rare and sought after volume, and will make a very valuable addition to any Thelemic library, or a private collection. It includes both Aleister Crowley's commentaries on Liber AL vel Legis (or The Book of the Law), as well as further commentaries by Marcelo Motta.
RETURN OF THE SORCERERS: Black Magic in the Modern World by Manly P. Hall (Chapbook)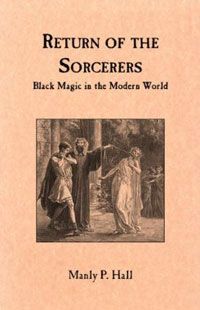 Ancient man lived in a world of mystery, which resulted in a number of curious beliefs. The origins of magic (black, white and gray) are discussed, as well as the modern misinterpretations of ancient beliefs. 'In the beginning human beings were isolated in an environment which they did not understand. They lived in a world of mystery and the combination of mysteries and imagination resulted in the rise of a number of curious beliefs. We also realize that these remote people, in trying to explain the nature of Deity, were only able to imagine God as a powerful chieftain — a cult hero, a venerable elder and to a great degree patterned after the living human heroes of the group under consideration. The gods of the Greeks and Romans were mighty kings and we have always had a tendency to create deities in our own image. We have assumed that all intelligence must be embodied and intelligence that impinges upon our experience must be embodied in a being of our kind. The moment we create such an embodiment, we bestow upon it not only our most noble ideals, but our most human and often delinquent tendencies. The deity of antiquity was an autocrat and ruled by the divine right of his own divinity, appointing his earthly representatives and bestowing upon them a divine right of kings. In these times also, strange fetish beliefs and mysterious factors in our social structure — taboos of all kinds — rose in primitive consciousness. It took many thousands of years for rulers to recognize that it was neither wise nor noble to bury their living followers with their own physical remains. Many a great ruler has been responsible for the killing of his entire court at the time or his own demise. These practices gradually faded away but only after thousands of years of what we might call mismanagement, cruelty, and savagery. Most of it in some way related to primitive religions, and we recognize in our background, and therefore to a large measure in our own subconscious life, that there are a number of moral dishonesties which have been deified or made to appear sacred. We have felt it perfectly right to persecute followers of other faiths, and in so doing were merely supporting our own deities and offering proper worship and homage. Even today in an entirely different environment, we find religious tolerance very difficult to maintain. We have made virtues out of many practices which have no essential merit, some of which are comparatively harmless, while others continue to be more or less menacing.' (Manly P. Hall)

Chapbook is in fine unread condition
THE SACRED MAGIC OF THE QABBALAH: The Science of the Divine Names by Manly P. Hall (Chapbook)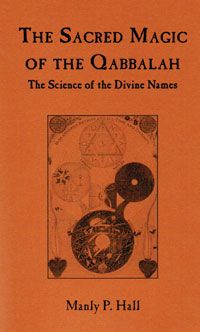 The Philosophical Research Society is a nonprofit organization founded in 1934 for the purpose of assisting thoughtful persons to live more graciously and constructively in a confused and troubled world. The Society is entirely free from educational, political, or ecclesiastical control. Dedicated to an idealistic approach to the solution of human problems, the Society's program stresses the need for the integration of religion, philosophy, and the science of psychology into one system of instruction. The goal of this instruction is to enable the individual to develop a mature philosophy of life, to recognize his proper responsibilities and opportunities, and to understand and appreciate his place in the unfolding universal pattern.

Chapbook is in fine condition
ARTHUR MACHEN: MASTERS OF THE WEIRD TALES (Signed Limited Edition Hardcover)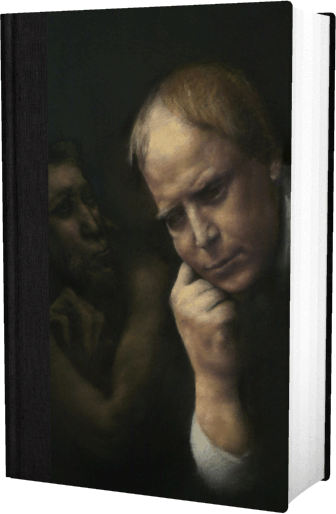 The largest collection of Arthur Machen stories ever collected in one volume, including original artwork by Matthew Jaffe, a new introduction by T.E.D. Klein, and a new afterword by Caitlín R. Kiernan. Contents include The Great God Pan, the complete Three Imposters, The White People, and many more.. Bound in cloth with a full cloth slipcase. The edition is limited t0 200 signed and numbered copies, and the book is signed by T.E.D. Klein, Matthew Jaffe, and Caitlín R. Kiernan. One of only 200 signed and numbered hardcover copies in custom slipcase
THE STUFF OF DREAMS: THE WEIRD STORIES OF EDWARD LUCAS WHITE Edited by S. T. Joshi (Signed Limited Edition Hardcover)
BACK IN STOCK and almost sold out!!!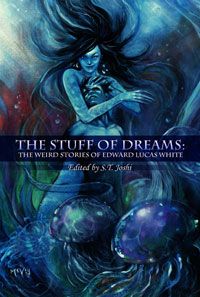 Arcane Wisdom Press is proud to announce our latest project, The Stuff Of Dreams: The Weird Stories of Edward Lucas White, collected and edited with introduction by scholar S. T. Joshi.

One of only 150 signed and numbered hardcover copies signed by the editor S. T. Joshi and acclaimed cover artist Alex McVey.

(This is an advance order and is not expected to ship until December 2012)

American writer Edward Lucas White (1866–1934) produced a memorable body of weird fiction in his two short story collections, The Song of the Sirens (1919) and Lukundoo and Other Stories (1927). The distinctive feature of these stories is that many of them were based on the author's incredibly bizarre and detailed dreams. The classic story "Lukundoo" tells of a hideous curse inflicted by an African witch-doctor; "Amina" is the innovative tale of a female ghoul; "The Snout" hints loathsomely of a hybrid monster in an old manor house; and "The Song of the Sirens" tells of the latent horror behind the classic Greek myth of the half-bird, half-woman creatures known as the Sirens. These are only some of the potently macabre tales in this book, which shows Edward Lucas White to be a master of the weird tale whose work has been unavailable for too long.

Contents:
Introduction
The House of the Nightmare
The Flambeau Bracket
Amina
The Message on the Slate
Lukundoo
The Pig-skin Belt
The Song of the Sirens
The Picture Puzzle
The Snout
Sorcery Island
Azrael
The Ghoula
Edward Lucas White on Dreams