MEDUSA'S COIL AND OTHERS Volume II by H. P. Lovecraft edited by S. T. Joshi (Signed Limited Edition Hardcover)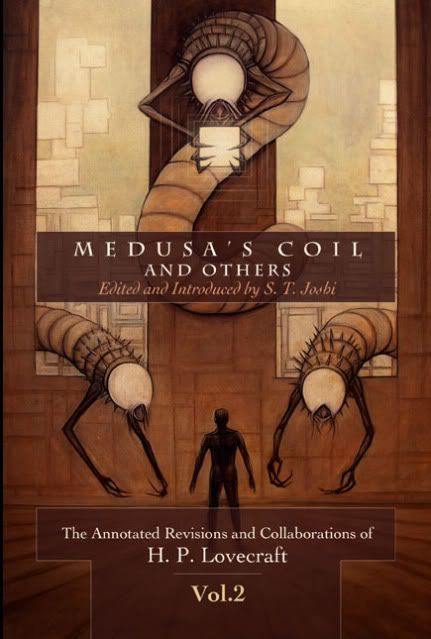 MEDUSA'S COIL AND OTHERS Volume II by H. P. Lovecraft edited by S. T. Joshi (Signed Limited Edition Hardcover)
Some of H. P. Lovecraft's most fascinating work came from a time in his life that he was forced, by economic survival, to ghostwrite, collaborate and revise the work of others in the field.
Here Lovecraft Scholar S. T. Joshi collects the best of these revisions and collaborations in a two volume set to be published this year from Arcane Wisdom Press. Medusa's Coil and Others is the second of these two volumes. This edition is painstakingly annotated, and includes an introduction and bibliography by S. T. Joshi. The book is a must for the Lovecraft enthusiast and scholar alike.
This limited edition hardcover will be strictly limited to only 150 hardcover copies. They will be signed by Lovecraftian scholar S. T. Joshi and will be hand numbered on a custom signature sheet, featuring artwork by Zach McCain.
We expect to be shipping these in late January reserve your copy now of this unique collection.
Click here to reserve your copy. MEDUSA'S COIL AND OTHERS by H. P. Lovecraft
We only have about 8 copies of the first volume in this two volume set left.  The first being Crawling Chaos and Others, if you haven't got your copy click on the cover art below to get more information on the first volume.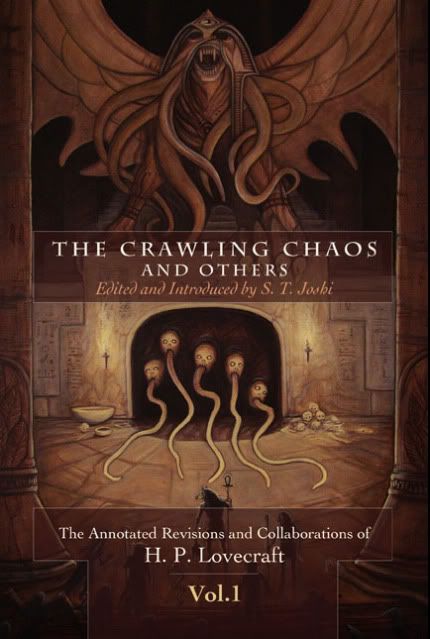 Here is a look at both both cover arts together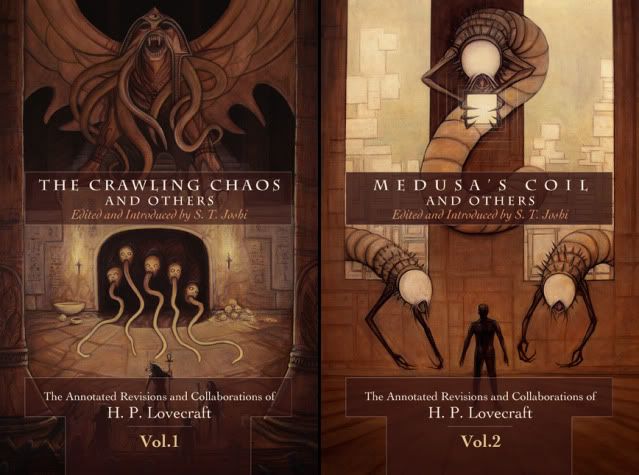 6 Responses to "MEDUSA'S COIL AND OTHERS Volume II by H. P. Lovecraft edited by S. T. Joshi (Signed Limited Edition Hardcover)"
[...] Arcane Wisdom, H. P. Lovecraft, S. T. Joshi. You can follow any responses to this entry through the RSS 2.0 feed You can leave a response, or trackback from your own [...]

[...] Books announces pre-orders for S.T. Joshi's Medusa's Coil and Others: the annotated revisions and collaborations of H.P. Lovecraft, Vol.2.. Superb cover artwork by Zach [...]

Am I correct in assuming these will also be released in a standard edition, and if so do we know when?

Yes this will eventually be put out in a trade paperback but it is likely a year or so away.
Best
Larry

Do you have a table of contents for this edition yet?

Introduction by S. T. Joshi

Medusa's Coil (with Zealia Bishop)
The Trap (with Henry S. Whitehead)
The Man of Stone (with Hazel Heald)
Winged Death (with Hazel Heald)
The Horror in the Museum (with Hazel Heald)
Out of the Aeons (with Hazel Heald)
The Horror in the Burying-Ground (with Hazel Heald)
The Slaying of the Monster (with R. H. Barlow)
The Hoard of the Wizard-Beast (with R. H. Barlow)
The Tree on the Hill (with Duane W. Rimel)
The Battle That Ended the Century (with R. H. Barlow)
"Till A' the Seas" (with R. H. Barlow)
Collapsing Cosmoses (with R. H. Barlow)
The Challenge from Beyond (with C. L. Moore, A. Merritt, Robert E. Howard, and Frank Belknap Long)
The Disinterment (with Duane W. Rimel)
The Diary of Alonzo Typer (with William Lumley)
In the Walls of Eryx (with Kenneth Sterling)
The Night Ocean (with R. H. Barlow)

Appendix
Notes to "Medusa's Coil"
Notes to "The Challenge from Beyond"
The Sorcery of Aphlar (with Duane W. Rimel)
The Diary of Alonzo Typer by William Lumley

Notes

Bibliography