To get ordering information on any title just click on the picture.
Many of the books we carry are rare and we have a very limited quantity. All books are sold on a first come first serve basis.  All books are available for layaway.
We are always interested in buying Esoteric, Occult, Freemasonry, Alchemy, Golden Dawn, Hermetics, Ceremonial Magic, Witchcraft, Religious, Philosophy and Lovecraftian fiction. Feel free to contact us at miskatonicbooks@me.com
THE TESTAMENT OF CYPRIAN THE MAGE 2 volume set by Jake Stratton Kent (Deluxe Quarter-bound in veiny vellum, numbered and slipcased)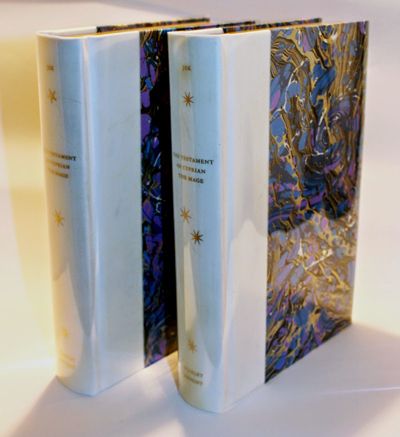 Infernal Pact fine edition. Limited to 72 hand-bound exemplars.
Quarter-bound in veiny vellum. The covers are finished in custom marbled papers and the spines blocked in gilt.
All edges gilded, and the volumes come ribboned and slipcased.
The Testament of Cyprian the Mage, a two-volume work by Jake Stratton-Kent, comprehending The Book of Saint Cyprian and his Magical Elements and an elucidation of The Testament of Solomon.
The Testament of Cyprian the Mage is a two volume work of approximately 600 pages endowed with charts, tables, seals etc. and punctuated by specially commissioned pen and ink illustrations by Oliver Liebeskind. Lavishly bound and printed in red and black ink throughout, this is a work of enduring importance and a resource to accompany your ongoing study.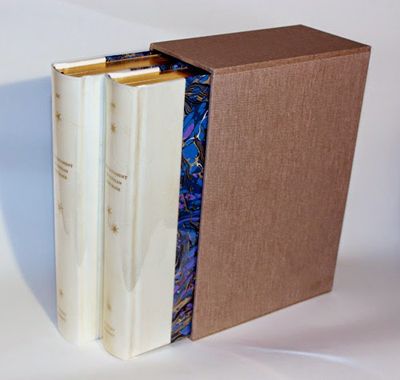 This is the final work in Stratton-Kent's acclaimed Encyclopaedia Goetica series which began with The True Grimoire, a working reconstruction of the Grimorium Verum, and was followed by the monumental two volume Geosophia: The Argo of Magic which explored the necromantic Greek origins of Goetia.
The Testament of Cyprian the Mage is a fitting climax to this endeavour which has placed the author at the forefront of modern magic with a body of work that is both scholarly and aimed at practical application. All are standalone texts though benefit from being read as aspects of a single thesis: the importance of Goetia as the oldest continuous tradition of Western magic.
As Stratton-Kent affirms, 'Goetic Magic … if properly understood would regenerate Western magic and underline its immense cultural significance, on a level equal to any spiritual tradition in the world.'
This understanding is clearly given in two volumes of lucid and fascinating exegesis with clear extracts from all the necessary works.
The Testament of Cyprian the Mage is an ambitious and far-seeing work, addressing two ends of the magical spectrum: the Testament of Solomon and a version of the Iberian Book of Saint Cyprian. In doing so, key aspects of magical practice are revealed.
This work draws upon these texts to create a clear understanding of the practice of grimoire magic, not as a discrete or degenerate subset of ceremonial magic, but one which is integrated with folk magic and witchcraft. In particular we discover a shared dramatis personae, the infernal pact, and a common terrain of Wild Hunt and Sabbat.
Within the text we encounter the Chiefs, Kings and Queens of the grimoire tradition; the magical role of the Decans and their stones and plants; lunar magic and magical animals; the gods of Time; the Sibyl and the Hygromanteia; Asmodeus and Oriens; Angelology, Theurgy, Conjunction and the Pact, the Angelic Vice-regent and thwarting Angels; Asclepius, Iamblichus and Neo-Platonism; Paracelsus and the Elemental Spirits; Necromancy, and the principles of spell work.
As Jake writes, 'A primary purpose of this book is to explore the implicit mythology of grimoire spirits and the contexts from which it derives.' It does far more. This is a fundamental revisioning of magic with profound implications for the magical revival which we are all engaged in.
Jake Stratton-Kent has been a goetic magician since 1972, making more than forty years of continuous goetic practice. His practical work integrates the magical papyri, italo-french grimoires in particular the Grimorium Verum and African traditional religions with a focus on Quimbanda and magia negra. His interest in magic spans the ancient, medieval, renaissance, and modern as well as stretching from the West to the Middle East and crucially, the New World. His scholarly approach is backed with a personal relationship with the spirits, which is rare to find in the modern world.
THE GRIMOIRE OF TIAMAT by Asenath Mason (Bound in blood red goatskin) The Adeptus Draconis Edition
The Adeptus Draconis Edition of the Grimoire of Tiamat boasts a full red goatskin binding, gold foil stamping to the cover and spine, a black place marker ribbon, red and black hand marbled French endpapers, and raised ribbing on the spine. One of only 15 copies produced!!!! Book is in new unread condition.
Tiamat is the Primal Dragon Goddess, "the first one, who gave birth to the gods of the universe", the Mother of Everything, the self procreating womb, the source of all life and all manifestation. The work described in this book was inspired by the Babylonian epic known as the Enuma Elish, one of the oldest Creation myths in the world.
All Ritulas described in this book were performed and tested, and their results have been verified to prove their efficacy.
IDOLATRY RESTOR'D Witchcraft and the Image of Power by Daniel A Schulke (Bound in Green Goatskin Special Limited Edition)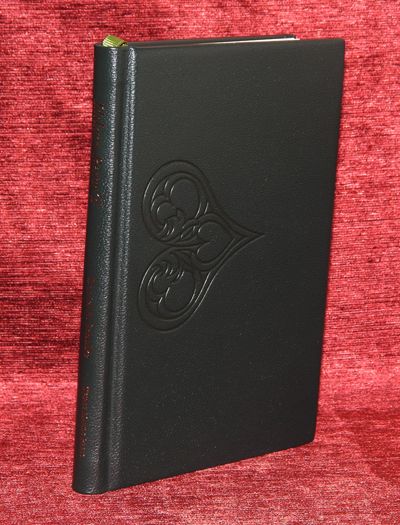 Full ivy-green goatskin, marbled endpapers, limited to 66 copies. Book is in new unread condition. See image tab above for more pictures.
The translation of magical power to image is a matter well understood in so-called 'primitive' sorcery, in which occurs a mutual embodiment of re-presentation and the Represented. The Fetish, for example, apprehends a reciprocal process between Object and Creator that often begins long before chisels and adzes are set to wood, participating in its own reification. Many of these eldritch forms of image-making were concerned with accessing power, and it was only later, in the context of religious devotion, that their forms densified into 'mere' idols. With increasing levels of religious control over art, a Moiré pattern arises between the Artist and the forces of the Divine, which may either suppress individual visionary power in favor of canonized icons, or, when correctly accessed, give rise to an 'heretical creativity'.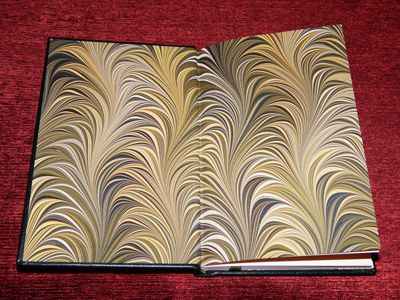 Witchcraft, because of its syncretic nature, partakes in multiple infusions of traditional image-making lore, including not only sorcery and religious iconography, but also science, craftsmanship, and the fine arts. However, because much of its images are used privately, and indeed created for a limited set of observers, they participate in a concentrated alembic of exposure wherein all who experience them do so in the context of magical practice and devotion. This intensity of private magical interaction provides a locus which enables the image to transcend its medium —and indeed that fetish known as 'icon'— and generates living numen.
First published as an essay in the British folklore quarterly The Cauldron in 2009, Idolatry Restor'd drew upon the experiential arenas of magical practice and Image-Artistry which came to inform Schulke's book Lux Haeresis (Xoanon, 2011). Here substantially expanded with illustrations prepared especially for the work, Idolatry Restor'd is a book of engaging fascinum for both Artists and Beholders alike, and strikes at the heart of magical image-aesthesis.
Back in stock and in short supply
VOLUBILIS EX CHAOSIUM: A Grimoire of the Black Magic of the Old Ones by S. Ben Qayin (Hardcover Limited Edition)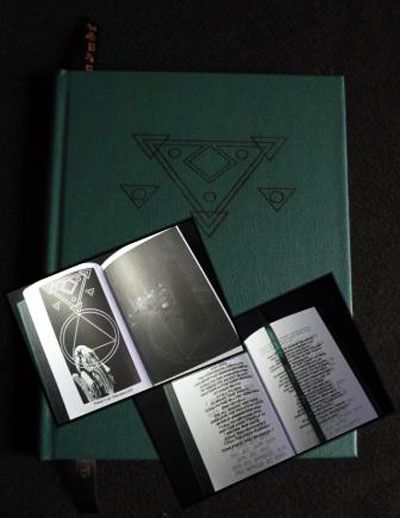 Bound in green cloth with black foil stamping and stunning textured end papers. 133 pages. Printed on high quality paper and includes ceremonial diagrams and 5 full page illustrations by the sinister artist Lucas Pandofelli. Hand numbered and limited to 478 copies.
On the 75th anniversary of the passing of H.P. Lovecraft, Dark Harvest brings you Volubilis Ex Chaosium, a grimoire of the Black Magic of the Old Ones.
"Howard Phillips Lovecraft through his classic works on the Cthulhu Mythos and Necronomicon introduced his cosmicism philosophy and system of forbidden knowledge to early 20th century readers. Regarded by many as one of the most influential authors of the 20th century, he was an avid and masterful storyteller, or as some believe a magician, in his own right. Decades after publication, his works have been the inspiration of many notables within the fantasy, science fiction, horror and occult genres. However, of particular interest is the system of dark magic employed throughout these works. Some have looked upon these works as occult fantasy, while others believe there is a much deeper meaning within the tradition of the magician storyteller passing down a complete system of dark magic to a selected novice capable of intuitively transcending beyond a mere storyline. To some who have examined the works of H.P. Lovecraft, there is an apparent logical and practical system of dark magic that can be assimilated. Throughout the years many have based their own works of occult fantasy and grimoires on the works of H.P. Lovecraft."
"In Volubilis Ex Chaosium, a new practical approach has been revealed, a key dedicated to the pursuit and practice of the dark system of magic as prescribed by Lovecraft throughout his works. Never before has the very practical foundation of this dark system been offered through any tome; where the flourishes and dramatic flights of fancy of the storyteller have been stripped away leaving a solid bedrock of practical dark magic for those who are so inclined to dare enter the dark realm of Chaos Magic from within their own ritual chamber. Make no mistake, Volubilis Ex Chaosium is by no means a study of Lovecraft's dark system of magic, it is an instruction guide from the acquisition of the instruments of ritual to the conducting of actual rituals within this system."
- Dr. Robert Ing
S. Ben Qayin, with his vast knowledge of dark occult matters spanning over decades, found Lovecraft's work to be so compelling, that after careful study a complete practical system of dark magic became more than evident to him within. Just as the magician storytellers of bygone centuries ignited a dark flame within their charges, so too was the case of S. Ben Qayin, who was so moved by what he had found, there was little doubt this system of magic as told by Lovecraft had been obtained
from beyond the mere imaginative genius of the storyteller
alone.