To get ordering information on any title just click on the picture.
Many of the books we carry are rare and we have a very limited quantity. All books are sold on a first come first serve basis.  All books are available for layaway.
We are always interested in buying Esoteric, Occult, Freemasonry, Alchemy, Witchcraft, Religious, Philosophy and Lovecraftian fiction. Feel free to contact us at miskatonicbooks@me.com
THE CATECHISM OF LUCIFER by Johannes Nefastos (Deluxe Leather Bound Hardcover Edition) 1 of only 100 copies published!
THE CATECHISM OF LUCIFER. Deluxe Edition, limited to only 100 hand-numbered copies.
Place Published: Finland
Publisher: Ixaxaar Occult Literature.
Date Published: 2013.
Edition: First Edition in English
Binding: Leather Bound
Condition: Fine, new, unread.
Description:
12mo, original black grained goatskin leather elaborately stamped with an inverted cross in gilt on upper cover, the spine with raised bands but untitled, black endpapers, all edges dyed in black, ribbon bookmarks. Text from John 12:25 printed in gold along the edge of the inside cover. 82 pp, illustrated, printed on special linen embossed cream paper. The Deluxe Special edition, limited to only 100 hand-numbered copies. A fine, new, unread copy.
A Devotional Work. The Catechism of Lucifer was written as a counter-gospel for the Evangelical Lutheran catechism, but in addition to this, it represents a Gnostic form of Satanism on its own. In this book is outlined the path out of worldliness, out of theology mortally wounded by its false theodicy, even out of humanity taken as something small-minded, powerless and petty. The Catechism of Lucifer is founded upon the idea that by hating the perverted picture made of God by the Christian doctrine, we may truly attain higher possibilities for our Spiritual development and Empowerment. On this demanding but beautiful and meaningful path we are led by our innermost potential of ingeniosity, the divine Master Lucifer. In the Catechism there are included the following texts: The Ten Commandments of Lucifer / The Satanic Credo in Three Creeds / The Master's Prayer in Six Articles / Of Lucifer's sacraments / Of Demons / Of Magic / Of the Responsibility of the Individual / Of Satan / And many relevant quotations taken from the different sources of Star of Azazel's literature. "In contradiction to what Christianity is trying to assure us, Satan is not the Lord of flesh, filth, and deception or the deceiver of mankind, but the one who elevates people from the emptiness of their ignorance."
SALOMONIC MAGICAL ARTS translated by Frederik Eytzinger (Deluxe Leather Bound Limited Edition Hardcover)
Full crimson goat, marbled endpapers, limited to 72 hand-numbered copies. Book is in near fine condition with very light shelf wear else fine.
Water, I exhort you olansgält. Lucifer, I exhort you with all your company, that you will bring my belongings back again. May the thief never come to peace, neither at night nor at day, sleeping or awake, riding or on foot or by any means, until he returns what he has stolen..
–From A Spell To Catch Thieves
Amid the great genres of European magical books are the Scandinavian Svartkonstböcker or 'Books of Black Arts', the privately-kept practical manuals of magic used by rural charmers and practitioners of folk magic. Incorporating charms, prayers, and curses, as well as medicine, alchemy and physical experiments, many of these books survive today in universities and private collections. While bearing some relationship to the corpus of  European grimoires which feature angelic and demonic magic, the Svartkonstböcker as texts of magic are in a class all their own.
Salomonic Magical Arts consists of two such volumes, originally handwritten in the early eighteenth century.  Named The Red Book and The Black Book by one of their owners, they passed through the hands of priests and cunning men before coming to rest in academic institutions. Invoking a variety of spirtual powers ranging from Christ to Beelzebub, its magical formulae, numbering in excess of 450 individual receipts, serve as a testament to the endurance of sorcery in the early modern era. First published in Swedish in 1918, Salomonic Magic Arts is here published in English for the first time.
Introducing the work is a substantive introduction by the translator, which places the book in its cultural and magico-historical context, including Swedish cunning-folk traditions (trolldom) the European grimoire tradition, traditional magical healing, pagan belief, and the relationship between folk magic and the church.
Octavo, 280 pages, Salmomonic Magical Arts is illustrated throughout with sigils and rare photographs. The sigils and magical seals were drawn by Maria Olsson after the original source documents, especially for this first English edition.
VOUDON GNOSIS by David Beth (Deluxe Quarter Bound in Snake Skin Hardcover Edition)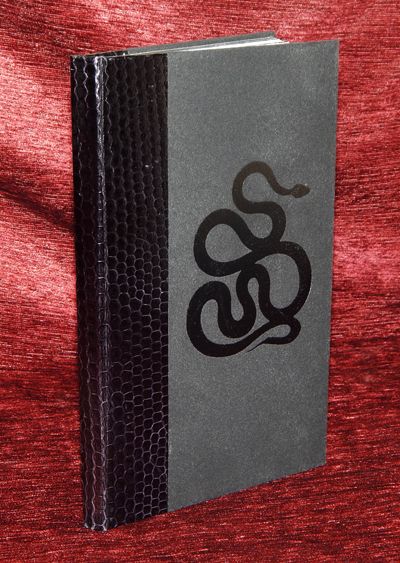 Quarter Bound in REAL Black Snakeskin!
This is a very important book for anyone interested in the work of Michael Bertiaux, and also the Typhonian Trilogies of Kenneth Grant. As its title suggests, it deals with Voudon Gnosis, in particular, the Voudon Gnosis of Michael Bertiaux. Anyone who has read (or attempted to read) Bertiaux's The Voudon Gnostic Workbook, or the courses from the Monastery of Seven Rays, will know these works of "sprawling immensity", are not easy to read & understand, and even more imposing, if you are trying to put them into practice. "David Beth has known Michael Bertiaux for many years, and has acquired a great deal of experience in the myriad aspects of Michael's work. In the present book he picks out various themes from The Voudon Gnostic Workbook, as well as from the Courses offered by The Monastery of Seven Rays and offers his own insight into them, on the basis of his own experience." (Michael Staley – Foreword to Voudon Gnosis).
This book is indispensible for anyone interested in Bertiaux's work, and is a superb book on the Voudon current, in its own right. Beth clearly and concisely elucidates the essence of Bertiaux's work, and allows those who are interested in working with these energies, a fast way in. There are also many diagrams, illustrations, and full colour plates.
Book has light rubbing to back board else fine.
fifty five copies of voudon gnosis are quarter bound in black snakeskin and finished in a stygian black paper which is embossed with an ophidian design. the endpapers are hand marbled and swirled. the foredge stained black. all copies of the deluxe are personally signed and sigilised by david beth.
BY MOONLIGHT AND SPIRIT FLIGHT by Michael Howard (Deluxe, Limited Edition, Bound in Goat Hardcover)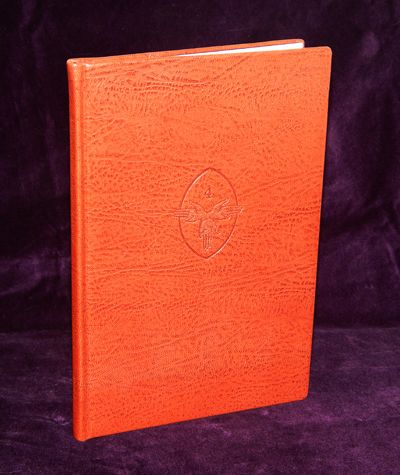 By Moonlight and Spirit Flight: The Praxis of the Otherworldly Journey to the Witches' Sabbath
Deluxe Hardcover, full chestnut goatskin with marbled endpapers, limited to 80 copies
Three Hands Press Occult Monograph No. 4
The Devil read out a roster of those present from a black book. A fire was then lit and the Horned One sat on a throne to receive the worship of his followers. At his side was the leading female witch, a woman known as the Queen of the Sabbath. The witches saluted the Devil by means of the osculum infame or 'obscene kiss', which was given under the tail…
As has been established by historians such as Dr. Carlo Ginzburg and Eva Pocs, the topological elements of the medieval Witches' Sabbat –the ecstatic nocturnalia of the lamiae — carry relics of the ancient spirit-cults and localized folk-beliefs of Europe. Elements haunting witchcraft-practices included the night-roving denizens of the Wild Hunt, the exteriorised or shapeshifted spirit-double, and the profaned sacraments of Christianity itself. Of particular interest in the present essay is the phenomenon of nocturnal spirit-travel and its connections to present-day occult practice as manifested within the Sabbatic Cultus of traditional witchcraft.
In this fourth book in the Three Hands Press Occult Monograph Series, British folklorist Michael Howard casts an eye over such elements as the ancestral horde, the flight of the Furious Host, and the entheogenic Witches Salve, each of which played a unique role in the Sabbat of the Witches. The mythos of the Sabbatic conclave, containing infernal and diabolical elements, is taken beyond its Christian pathology to connect it with actual practices in folk-magic.
Book is in new unread condition
The Authentic Red Dragon (Le Véritable Dragon Rouge) with The Black Hen (La Poule Noire) Translated by Joshua A. Wentworth (Signed Limited Edition Hardcover) VERY RARE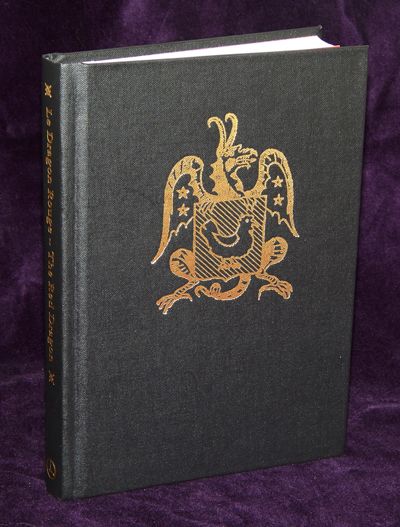 Le Véritable Dragon Rouge, or as it is more commonly known, Le Dragon Rouge (The Red Dragon) is one of the most notorious of the little books of black magic known as grimoires. This Teitan Press publication includes a complete facsimile of the earliest known edition – a French printing that is dated 1521 (although it was probably actually published in the early 1800s) – along with a complete English translation by Joshua A. Wentworth. It is prefaced with a thoughtful and sometimes humorous Introduction by Silens Manus. The text of Le Dragon Rouge is typical of grimoires of the time, and is clearly related to the Grand Grimoire. Its anonymous author claims that the work is derived from the wisdom of the legendary King Solomon, and then sets down instructions for the creation of a number of magical implements: blasting rod (wand), talisman and magic circle, that are to be used to summon the demon "Lucifugé Rofocale," who is then bound over to serve the sorcerer. In the process a great many sub-demons are named, and their attributes listed. This is followed by a series of magic spells or recipes for various purposes; from making oneself invisible, to winning the affections of another, to the cure of various common ailments. The book ends with a chart of lucky and unlucky days and a short version of the treasure-finding text known as La Poule Noire (The Black Hen). Le Dragon Rouge was very popular in early nineteenth century France, going through a number of clandestine and semi-clandestine printings, and is still said to be one of the most highly revered magic texts in certain Voodoo circles in Haiti. The book is a hardcover, small octavo sized (7 1/4″ x 5 1/4″) 208pp. Sewn, printed on acid-free paper. Bound in heavy black cloth with a gilt dragon design on the front cover, and gilt title to the spine. Red "coffin silk" endpapers. Rubricated titles and frontispieces, black and white illustrations. Edition limited to 800 numbered copies. Signed on an attached bookplate by Silens Manus who does the introduction. Book is in fine condition