To get ordering information on any title just click on the picture.
Many of the books we carry are rare and we have a very limited quantity. All books are sold on a first come first serve basis.  All books are available for layaway.
We are always interested in buying Esoteric, Occult, Freemasonry, Alchemy, Golden Dawn, Hermetics, Ceremonial Magic, Witchcraft, Religious, Philosophy and Lovecraftian fiction. Feel free to contact us at miskatonicbooks@me.com
SEVEN SPHERES by Rufus Opus (Limited Edition Hardcover) Nephilim Press
"There are few in the field today that have both technical expertise and a genuine love of the spirits. A man who is as on-fire with the Holy Spirit as a tent-revival preacher, but who can make complex evocation instruction as clear as your ABC's. Rufus Opus is that kind of Priest-Magician. For years he has been making laying down his brand of hermetic magic with style and sass on his blog and in his courses. Now with this book, he will be blowing open the gates for an even wider audience."
-Jason Miller, author of Sex, Sorcery, and Spirit-
"Rufus Opus is a frequent speaker and panelist at Crucible convention that features active magical leaders from known and exotic paradigms. He has shown a great ability to add a combustive dynamic to his life through his own personal workings." – Arthur Moyer, Omnimancer, host of Crucible Convention
"Rufus is a well educated and experienced occultist who firmly knows and strongly communicates his field without scaring or dumbing down for an audience. He is one of my go to authors for collected works on the topic." – Andrei Freeman,
Seven Spheres is more than a simple book of traditional Hermetic Magic. It is designed to be a series of rituals that function on many levels to take an average ordinary magician and turn them into a self-actualized powerhouse of proactive reality engineering. It's entirely about attaining initiation and empowerment in the highest levels of un-manifest reality. These experiences and rites result in the release of a floodgate of power that pour down through the layers of progressive manifestation, building up awareness, understanding, and ultimately raw potential as you move from sphere to sphere through the rites, ultimately culminating in the anointing of the magician as Priest-King directing the forces that climax in your personal daily experience of the Joy of your life. This book isn't about physical or spiritual mastery, it is entirely about understanding that you, personally, are beloved, honored, blessed, and highly favored of every intelligence, spirit, angel, and god of every sphere. This is about understanding who you are and what you can accomplish as a human being manifest upon the surface of the Earth. Spiritual enlightenment and material mastery will be yours, if you do the work described.
THE EXPLICIT NAME OF LUCIFER by Gilles de Laval (limited Edition Hardcover) Aeon Sophia Press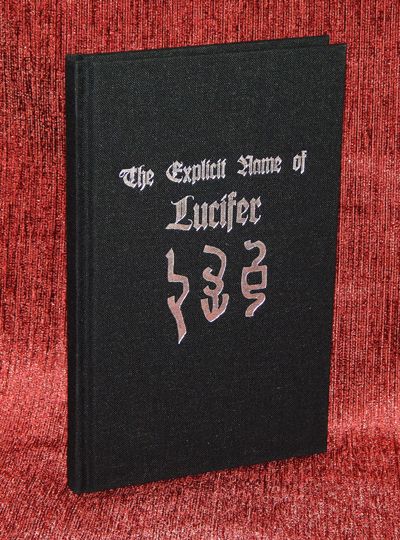 The Explicit Name of Lucifer is a 112-page hardcover limited edition limited to only 200 hand numbered copies. This grimoire that offers to practicing magicians the following:
An authentic, legitimate, never-before-published new Shem ha Mephorash (explicit name), not linked to the Judeo christian Creator deity but to the fallen archangel Lucifer;
A grimoire of goetic conjuration of the 26 demons who comprise this new Shem ha Mephorash system; and,
A new, subversive gematria of the English alphabet.
Being at once a grimoire of Goetic conjuration, a new Shem ha Mephorash system, and a treatise on the construction of a new, subversive English gematria.
LIBER THAGIRION Draconian Grimoire of the Black Sun by Asenath Mason (Limited Edition Hardcover) Aeon Sophia Press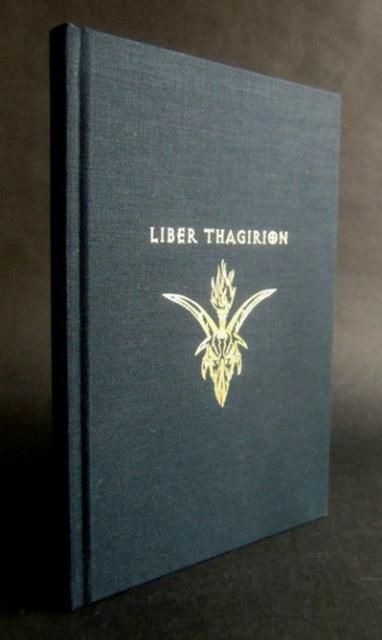 Limited Edition Hardcover of only 333 copies individually hand numbered copies. Book is in new unread condition
FROM THE PUBLISHER:
"Liber Thagirion" is a small grimoire which was written especially for the Monographic Grimoire Series by Aeon Sophia Press. The book includes rituals and meditations that will guide the reader through the mysteries of the Black Sun from the perspective of the Draconian Initiate and are designed for a solitary practitioner of Draconian self-initiatory magic. Among them you'll find invocations of Sorath, Belphegor, meditations with the Black Sun and rituals of the Adversary.
PSALTERIUM SATHANAS by J. Boomsma (Deluxe Leather Bound Limited Edition) Aeon Sophia Press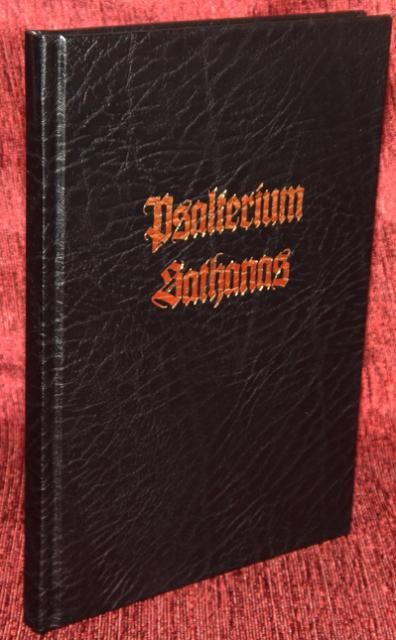 Deluxe leather bound limited edition of only 100 hand numbered copies.
The Psalterium Sathanas contains devotionals of hymns and prayer for the purpose of contemplation and reflection. This book was written to possibly offer a moment to refrain from ones mundane routine by method of meditation and by reciting the mantras contained herein. And by doing so, one enables to create a personal universe within oneself with the aim to establish personal spiritual growth and to concentrate upon strengthen the bonds with the Master. The Psalterium Sathanas; may also guide you and serve as a tool for repetition and cultivation of spiritual devotion in the practice of Bhakti-Yoga: Devotional Service
Table of Contents.
- Introduction
– 24 mantras
– A short writing about 'Kenosis'
– A short writing about Meditation
– A few hymns dedicated to Lucifer-Satan
Book specs:
Deluxe Edition
– Full leather bound
– Gold foil stamp to front cover
– approx 50 – 60 pages
– red end papers
– red and gold silk ribbon page-marker
Pyramidox vel Heb á Qual by Michael Idehall (Hardcover Edition)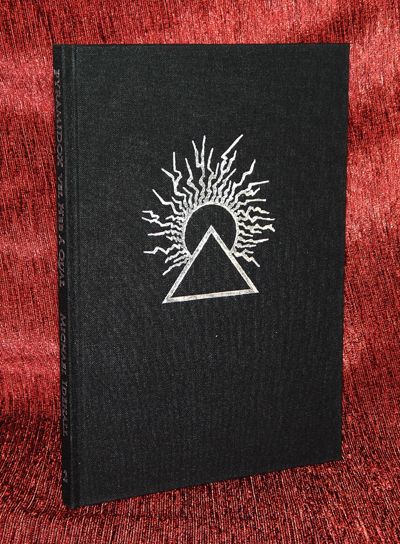 The vestments of old ages will wither along the road of pilgrimage, and newborn flesh will house the smokeless flame of gnosis. And thus a new book may have and old heart, and the songs of my mothers will be sung by foreign throats. -Oracle of Heb á Qual
The Pyramidox vel Heb á Qual constitutes a contemporary exploration of the grimoire known as The Treasure of the Old Man of the Pyramids, executed by means of sorcerous reification in order to present the mysteries that veil the heart of a book of power.
New incantations complement the twenty reworked talismans, and a transmission of sigils for entering into the tutelage of the Sentinel of this liber spiritum has been appended to the more traditional content.
64 page black cloth bound hardback
120 gr. paper bookblock
Purple linen-structured end-papers